You may have heard many times that social media presence can be an excellent opportunity for your business. Indeed, today's communication has been transformed thanks to social media. 
Why? Because it is in the interest of any business to be present on social media and take advantage of the advantages of knowing all the latest tools that allow it to assert itself online. 
However, still not convinced that you should choose social media or marketing services? Here are 5 benefits you should consider: 
1. You build relationships.
Social media is used for more than brand-customer interaction. In fact, the fundamental purpose of social media is to bring people together. There are millions of people using social media platforms. It's a great opportunity for your business to reach a large number of people who are interested in products or services similar to what you sell.
2. Share your expertise.
Social media gives you the opportunity to talk about what you know how to do and what you want to be known for. Sharing your experience will attract potential customer connections. By publishing content on topics you know a lot about, you can start building your credibility.
3. You increase the visibility of you and your business.
If you spend time focusing on your expertise, consistently managing your social media channels, then you have the potential to increase your visibility and even become a leader in your field. Good content gets shared, so if you consistently post quality content, the more people who share it, the more people see it. 
You also need to interact with other people. Following people and interacting with them on social media will help build relationships and help you grow in popularity.
4. You create viral content.
Perhaps the biggest advantage of social media is the ability to get help from your followers. People love to share things on their accounts, from photos and recipes to interesting articles and great deals. 
Unlike other forms of Internet marketing, such as paid advertising, social media content is often shared.
5. It's free to create an account on social media.
Another important advantage is that starting in the online world is completely free. Neither platform has registration fees, so the only investment you will have to make is in the form of time. 
Still not convinced? Okay, here are 5 more bonus benefits! ? 
You have a direct connection with your audience.

 

You have access to paid advertising services.

 

You generate traffic to your business website.

 

You can rate your performance.

 

You can discover valuable information about the audience and the brand (insights).

 
Do you want to be present on social networks with your business, but you don't have the time and you don't have creative and current content? 
We fully understand what can prevent you from being visible online, that's why we created the Social Genio platform that helps you connect with social media specialists, and they help you get 50 extra hours a month! 
No, we're not magicians, it's just that our mission is to provide quality content for your brand, while you take care of the other aspects of the business. A win-win situation, right? 
Social media posting plan, ads management, community management, copywriting or articles? What suits you best? 
For each service, we have prepared various packages for you, within the reach of every entrepreneur! Take a look! ?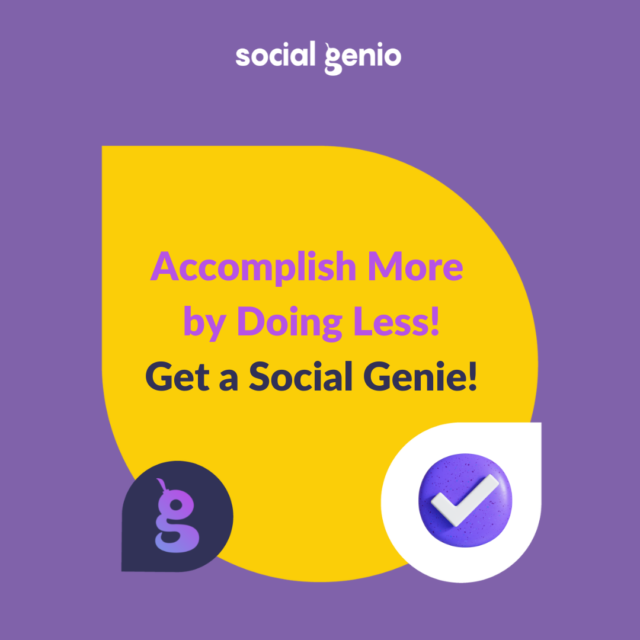 Was our article helpful to you? 
Then let's get to know each other! Schedule a DEMO CALL right HERE and start your journey into the virtual world!